​After the restrictions of the past few years during the COVID Pandemic, The Team at Sharp Consultancy were finally able to continue the tradition of delivering Easter Eggs across Charities and Schools within the local area this year.
We had probably forgotten how popular this had become and having picked up where we left off, the unbelievable generosity of our clients, contacts and candidates meant we smashed our initial target very early in the campaign.
As a result, with well over 400 eggs donated we were able to ensure we included a mixture of recipients, which included local charities, schools and food banks.
Members of our team have been out meeting those recipients this week and the impact has been amazing to see, not only from the patrons but the staff too and the chance to hear some of the stories and the background of the recipients really hammered home why such a small gesture goes a long way and the amazing work that the teams do.
A big thank you to Paces Sheffield, Ashgate Hospice and Phillimore School for partnering with us as part of this year's collection.
And a huge thank you to everyone who has donated, the volume was incredible and every single egg donated has found a home!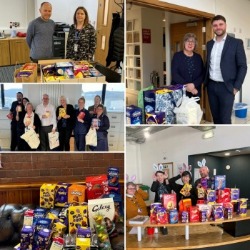 Tom Davage - I have thoroughly enjoyed this year's Easter Egg donation as it has shown how much the little things mean to people. The effort from everyone involved has been amazing and I would like to thank every business that has donated. The response has been remarkable. The reception when dropping off the eggs has been truly heart-warming and I hope these donations can help put a smile on someone's face over the Easter period. I can't wait for next year and hopefully we can beat this year's collection and include even more great causes!
Sarah Doherty - It was an absolute pleasure to be able to deliver the Easter eggs personally to Paces, What a fantastic charity Paces are, I thoroughly enjoyed learning about all of the types of fundraising that they do.
To learn more about Paces, the help they provide and what they do, visit their website here – Paces Charity (pacessheffield.org.uk)
Adam Thomas – Visiting Ashgate Hospice was both rewarding and humbling. To see all of the work that goes into the hospice, meeting the warm and welcoming team and seeing the patients and the impact that all of the work has, puts everything into perspective.
To learn more about Ashgate Hospice, the help they provide and what they do, visit their website here – Ashgate Hospice - We're here for you​